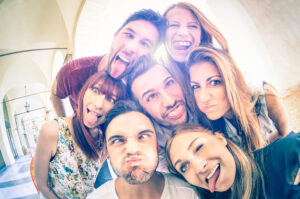 It feels so good when you're finally off to an event that you've been looking forward to for ages.
Whether it's a big music festival, concert, wedding, special party, or you're just off for a big night out on the town, it's a great opportunity to have some fun from the moment you start getting ready.
It's because of this that, when people are looking for a Leicester taxi for group events and they are hoping to travel together, they often come to us.
Our 8-seater vehicles mean that you and your friends can get to where you're going together, but in comfort and style, because there's lots of space.
And there's no reason why the excitement shouldn't continue even on the journey there.
Our drivers are friendly, professional and most importantly, safe behind the wheel, which means you can rest assured that you will get to where you're going on time, stress-free and ready to roll.
So, whether it's an occasion for fun, family, or simply one to remember, our reliable Leicester taxis will drop you at the door of your event, without you needing to worry about the little things, such as finding a place to park, or having to walk miles when the weather's bad.
We'll even check for any traffic problems before we come and get you – because we know that, when you want to be somewhere, a traffic jam is the last thing you need.
Why get an 8 seater to an event?
One of the best reasons to get an 8-seater to an event is the social aspect. It means spending extra time with friends and family as you look forward to what's ahead. But this isn't the only reason why a bigger vehicle makes a great choice of taxi for group events, here's six more:
The journey is cheaper per head – split the bill between a group of you and you'll be surprised at how cheap it can be.
Get the party started before you get there – as the saying goes, the more the merrier!
Safety in numbers – many people are wary of travelling alone, or fear being the first one to get somewhere. This isn't going to happen when there's a group of you.
Know you'll be in the right place at the right time.
Sit back and relax as you get there in style in our clean and comfortable vehicles.
Plenty of room, so you won't feel crammed in.
Wherever, whenever, call Kirby Taxis for your booking today
Whatever the time of day or night and wherever in the country you're going, we can ensure that you'll get there comfortably and on time. And it's for this very reason that our customers come back to us time and time again when a special event is on the cards.
If you have a big occasion coming up and there's a group of you going, get in touch with us today and book your journey in one of our 8-seater vehicles. Then put your feet up and start planning what you'll wear, safe in the knowledge that the rest is taken care of!