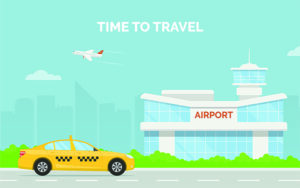 When an overseas trip away is on the cards, it's an exciting time. And there's absolutely no reason why the holiday mood shouldn't get well underway before you even get there.
If you're planning the trip to the airport for an up and coming holiday, then travel options can include public transport, driving yourself, or asking a friend/ family member to take you. But we reckon the best way is to be driven in style – and here are 12 reasons why you should get an airport taxi.
Our top reasons
We've put together the essential guide to getting airport transfers from Leicester and below are some of the reasons why, when you're going away, we should be the first people you call upon to get you there:
Less worry – there's no panicking about being late and you'll be dropped off at/ collected from the terminal, so all you need to do is check in.
Less effort – travelling is tiring, so why add to the effort by driving yourself to the airport or worse, driving home after a long flight?
You won't impose on others – even if family and friends are happy to help out, it still might be inconvenient for them.
Be safe – our taxi drivers are all extremely safe drivers and highly experienced to ensure your ride is the safest it can be.
It's not as expensive as you might think – airport car parking can be costly, not to mention your fuel bill. Our prices for airport transfers often cost less.
Have a clean and comfortable journey – a great way to kick off a holiday is to travel to the airport in comfort and style.
Reduced stress – because actually getting on holiday can be quite stressful. An airport taxi should help relieve that.
Friendly drivers – this is what they do for a living and a friendly and professional service comes as part and parcel.
Flights monitored – an airport driver will keep an eye on any flight delays to ensure they're there to collect you when you need them.
Traffic delays monitored – if there's a problem on the roads, they'll have checked the travel updates and either know to avoid it, or be aware of diversions to take if needs be.
Plenty of space for you… – no cramming into your mate's tiny car and having a journey to the airport where you feel trapped in a small space.
And your luggage! – Airport cars should have a large boot space, big enough to incorporate a family's worth of holiday luggage.
Book your airport transfer today!
Your journey to the airport doesn't have to be a worry when you book an airport car to get you there. And, when you have so many other things to remember before a flight (tickets, passport, currency etc), it means one more thing off your mind.
When you travel to the airport with Kirby Taxis, we will ensure a reliable, friendly and professional service, along with a clean and comfortable ride.