So many things have been invented t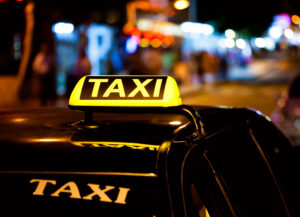 hese days to make life easier. From technological advancements to improved services in virtually every sector of our lives. But, when it comes to using a Leicester taxi service, this is something that has been making people's lives easier for centuries and here at Kirby Taxis, we take pride in continuing to offer that and so much more on top.
When using a reputable taxi firm, you can be sure you will get to where you need to be in comfort, style and on time, but don't just take it from us. Here are 7 reasons to use a Leicester taxi, if the fact that it's a useful service just isn't enough.
Great knowledge of the local area – not only are our drivers from Leicester themselves, but they drive around for a living. This means they know every route and shortcut there is, from Melton to Market Harborough, Loughborough to Lutterworth. And not only that, they know where all the delays are, because they're out and about on the roads of Leicester every day.
Get the best possible route – because when you need to be somewhere, chances are you'll want that to happen pretty pronto. When using a reputable taxi firm with great knowledge of the local area, you can just sit back, relax and know you're going to get there as quickly and directly as humanly possible. (Unless, of course, you have no desire to be there quick, in which case, feel free to ask for the scenic route!)
All drivers are thoroughly checked – because there's nothing worse than having a dodgy drive home after a great night out. Not only are our drivers checked for any driving convictions, but we ensure they display the very best in professional values and behaviour.
You don't have to take the car – especially if you're on a night out. If you're meeting up with your friends and fancy a drink or two while you do, then there's no worrying about being over the limit, because your ride home awaits you.
Don't get caught out by the weather – because we all know how unpredictable it can be! Even if you can walk to where you're going, the last thing you want is to be stuck in the rain, so book a taxi to drop you off or pick you up and avoid all the waiting around outside, when the weather isn't on your side.
It's cheaper than paying for parking – depending on where you're going and how long you'll be there for. Who's to say there will be a place to park? Avoid these kind of nightmares by booking a taxi and get on with being where you need to be.
Convenience – this has to be one of the ultimate reasons to take a taxi. Because, when you book with an excellent Leicester taxi firm, any worry about how you'll get somewhere is all taken care of. Not only will our Leicester drivers arrive on time, but you'll find they'll offer a pleasant and comfortable experience for the duration of your trip.
Book Your Leicester Journey Today
If you're in need of a Leicester taxi and are looking for a clean, friendly and comfortable service, that you can rely on, then get in touch with us to book your journey today.